Company News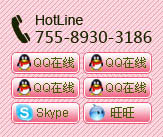 CNNET And I signed the cooperation agreement
Release Time:
2012-4-10 15:43:18
Source:
Author:
Browse The Number:
In order to establish a better corporate image, expand the publicity, broaden the sales channels. Rapid establishment of the company 's own website, publishing company profile, corporate news, products, contact us, so that customers can at the other end of the Web easily online contact us. The company recently with the professional Internet application developers," CNNET" agreement by both parties through consultation, sign, the website construction project cooperation,
Through the website or our basic situation, so that dealers and users do not need to visit, you can know more about our company existing condition.
Through the website to display the corporate style, the spread of corporate culture, establish a corporate image, the development of international business.
CNNET is your business on the Internet to establish and promote the brand of choice for partners.
CNNET is an Internet based application service provider. Headquartered in Shenzhen. There's" CNNET" and" CN Design"
Multiple industries brand experience of cooperation so that our vision of a more open
To ensure we provide the Internet service brand more firmly, to help customers achieve brand value maximization!
Previous Article:没有了!