Major Customers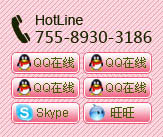 The competition of the enterprise, is the competition of the product, the competition of science and technology, but is ultimately talent competition.
Shenzhen best bag handbags leather goods company attaches great importance to personnel training and selection, has been to attract talents, to cultivate talent, to maximize the role of talent, as the task of a strategy. In Shenzhen City, the leather handbags Company Limited, human resource is the first resource of the enterprise, is the enterprise development and expansion of the decisive factor.
In the training process, the company established a complete system, training system, the company promises to provide staff in the technology and ability of all-round development with various types of training, and supporting the corresponding performance evaluation system, for employee incentives, promotions provide objective, reliable basis.
On Mechanism of choose and employ persons, the company has consistently adhered to "only the virtuous, to use" the use of personnel. Pay attention to create a relaxed, orderly environment of talent, to play the hero. Eagle gave him the blue sky, is the horse gave him the prairie, and strive for each person to create convenient conditions to give full scope to the talents, the staff's personal value to obtain the greatest degree of implementation, allowing them to work in the process of getting a sense of achievement and satisfaction.
The company for the introduction of competition and the lowliest place elimination, truly capable, light let, Yongzhe, fair competition, survival of the fittest.